Grammar Girls' (K – 4th grade) Uniforms:
CCA desires to keep a high standard to honor the Lord in all we do, including uniforms. Uniforms allow students to have fewer distractions in class.
Grammar Girls' Informal/Everyday Uniforms: Any combination of the following items may be worn year-round except for designated Chapel days. Informal/Everyday uniforms may be worn on days when Chapel is not scheduled.
o Polo: long or short sleeve, with collar, solid colors only, cotton material (NO pockets, no dry wicking material, no brand name emblems) (any vendor)
o Long pants- Navy or Khaki, pleated or flat front, classic or boot cut (NO skinny, cargo, holes, rips, embellishments) (any vendor)
o Skort- Navy or Khaki (khaki cannot be worn for chapel) JC Penney Izod Comfort Waistband Girls Scooter Skirt-it can be purchased in the store or online (web id#5003037)
*Polo Dress-(option for girls) Children's Place Girl's Uniform Pique Polo Dress (Tidal (Navy) & Ruby (Red) only)

o Bermuda Short- Navy or Khaki, pleated or flat front (NO skinny, cargo, holes, rips, embellishments) (any vendor)
o Socks- must be visible and worn with all shoe options (NO characters, outlandish designs or sayings) socks need to either match their shoes or uniform shirt. (any vendor)
o Shoes-(any vendor)
§ Tennis shoes-(NO characters, light-ups or outlandish designs) no high tops
§ "Mary Jane" type
§ Ballet flats
§ Sperry style/deck shoe
*No open toe or boot
o Formal Chapel Uniform-may also be worn on Informal days
Grammar Girls' Formal Chapel Uniform: Must be worn on designated Chapel days year-round. Chapel uniforms may be worn on other days besides Chapel.
o Long or short sleeved (your choice year-round) Peter Pan collared , white blouse only (any vendor)
o Jumper-must be purchased from the vendors mentioned below
Option 1) French Toast 2 in 1 pleated dress (navy only! )can be purchased online at https://www.frenchtoast.com/2-in-1-pleated-dress-girls-4-6x/p/1451 (item #1451) See picture above
OR
Option 2) The Children's Place, "Girls Uniform Wrinkle Resistant Jumper" Color: Tidal (Navy Only!) see picture above
-a navy or black short must be worn under jumper.
o Navy or white tights / navy or white knee or ankle length socks (any vendor)

o Navy, brown or black dress flat shoes; heels less than 1 inch (no open toe nor boot) (any vendor)
*Students may bring other shoes to change into for recess or PE on Chapel days. Students will change back into Chapel shoes when returning to the classroom.
*All Girl's skorts/jumpers must touch the knee, as defined by the crease in the back of the knee. We understand throughout the year the students grow in height. Once a skort/jumper reaches 2 inches above the knee when standing it needs to be replaced.
Outerwear: CCA Hoodies, or Fleeces (with CCA logo) may be worn at any time. Non-CCA outerwear not permitted inside building.
CCA Fleece Jacket (with CCA logo) (Debbie's Embroidery)

CCA Hoodies-pullover or zipped (with CCA logo) (Debbie's Embroidery)

CCA Soft Shell Jacket (with CCA Logo) Debbie's Embroidery
Debbie's Embroidery Contact Information:
Call or Text: (828) 475-2709
Hours: Monday - Friday: 10 a.m. to 5 p.m.
Saturday & Sunday: Closed
Email:
hello@debbiesemb.com
Address: 605 South College Street, Morganton, NC 28655
No PE Uniform-TK-4th do not dress out for PE or recess!

TK-4th grade Girl's Informal/Everyday Polo Dress (NOT Chapel wear) Ruby & Tidal Only!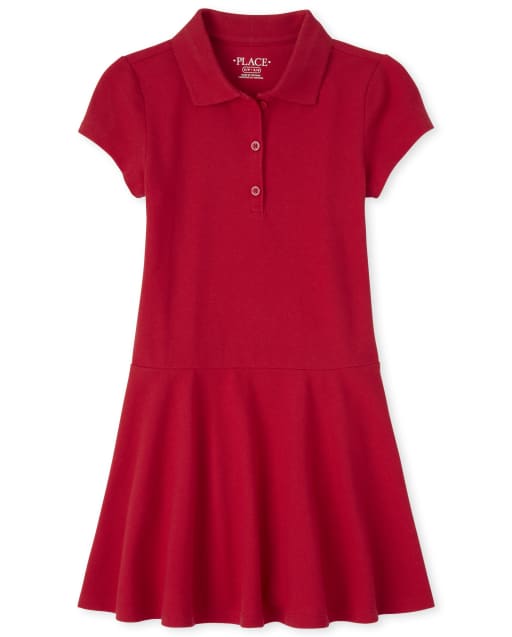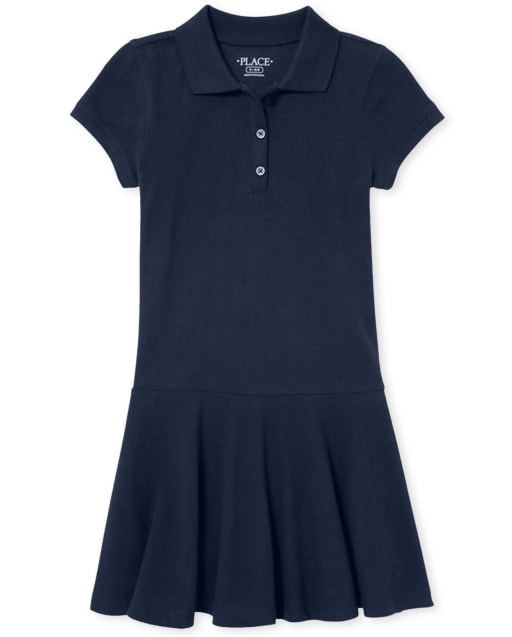 TK-4th grade Girl's Chapel Jumper Option 1:
French Toast
2 in 1 pleated dress navy only Item #1451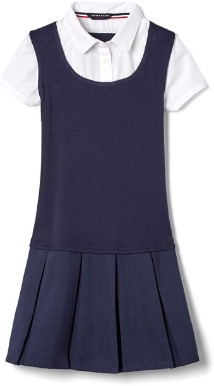 TK-4th grade Girl's Chapel Jumper Option 2:

Children's Place
Girls Uniform Wrinkle Resistant Jumper Navy only